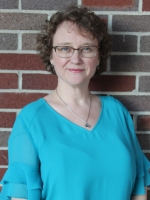 Erin was raised in the hills of East Tennessee and the suburbs of Wilmington, Delaware. Throughout her childhood she attended and was nourished on her faith journey at a variety of Presbyterian churches, from the tiny (First Presbyterian in Huntsville, TN), to the midsized (Westminster Presbyterian in Knoxville, TN), to the large (Westminster Presbyterian in Wilmington, DE). Nurtured as well by a family where faith and service went hand in hand, Erin grew into a call to ministry while attending Rhodes College and volunteering at Evergreen Presbyterian Church in Memphis, Tennessee, which led to a Bachelor's Degree in Religious Studies and a desire to attend seminary.
After a year of service as a Young Adult Mission Volunteer, Erin attended Union Presbyterian Seminary (Richmond, VA) where she met and married her husband, Matt, and later graduated with a Master of Divinity and a Master of Arts in Christian Education.
Erin's first call was to a church in Hudson, IA, where she served as an Associate Pastor for Mission. She and Matt welcomed their first child, Emma, while in Hudson. Later, Erin was called to become the pastor of First Presbyterian in Camden, AR, where son, Samuel, was born.
Erin is excited to now serve as the head pastor of United Presbyterian Church, and looks forward to sharing the love of God and the good news of Jesus Christ with this community.